Designed for rapid access and immediate action in the ER's heat of battle.
Bulleted and to-the-point, from ABCs to Discharge.
When minutes stand between intervention and adverse reaction, PEPID Emergency Medicine takes you from accurate answers to action in seconds. No books. No search engines. Just one trusted curation of EM essentials and tools — seamlessly delivered to your highly-acute point-of-care.
PEPID has all the TOOLS to help you help others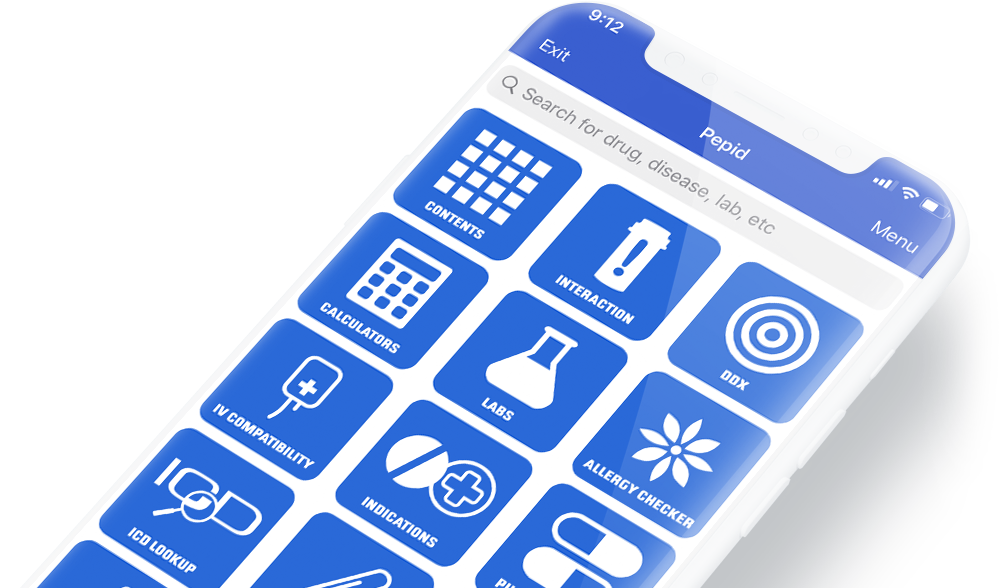 No. 1 in Emergency Departments since 1994
Content that cuts to the chase.
PEPID's flagship reference, Emergency Medicine Suite, synthesizes the full spectrum of emergent care into actionable steps — backed by industry-leading clinical, drug, and toxicology content.
Instantly employ evidence-based emergent care for all your snap critical decisions, featuring adult essentials, guidelines, and hi-res multimedia from the most authoritative content partnerships: the American College of Emergency Physicians, American Academy of Emergency Medicine, BEEM, and more.
PEPID maintains an agile editorial cycle to quickly respond and revise when new, relevant information is published and made available. The cycle includes a continuous comprehensive review and revision of all clinical and drug data by our own team of in-house physicians, nurses and pharmacists. All sections are written and reviewed by specialists of that topic.
Product Tools
All PEPID Suites Include:

Mobile Devices
Phone & Tablet
With Offline Access*

Online
Web Browser
Requires Internet Connection
Emergency Medicine,  1-Year
Online (Connect)
$25 /month
Billed annually at $299.95
Online (Connect)

Emergency Medicine,  2-Year
Online (Connect)
$22.91 /month
Billed every 2 years at $549.90
Online (Connect)

Emergency Medicine,  3-Year
Online (Connect)
$21.52 /month
Billed every 3 years at $774.85
Online (Connect)

Emergency Medicine,  2-Year
Online (Connect)
$24.83
/month –

Billed in 4 Installment payments of $149
Online (Connect)

Emergency Medicine,  3-Year
Online (Connect)
$25
/month –

Billed in 4 installment payments of $225.00
Online (Connect)