Primary Care Plus Ambulatory Care
The healthcare professional's daily carry, fully integrated with PEPID's complete library of evidence-based medicine and clinical tools.
All-in-one and one-for-all.
PEPID's Primary Care Plus Ambulatory Care (PCP) Suite contains everything you need to plan and provide multi-faceted care across all life stages.
PCP's superior usability saves you and your patients time, so you can start elevating your standards of care and your patients' quality of life as early as the waiting room.
PEPID has all the TOOLS to help you help others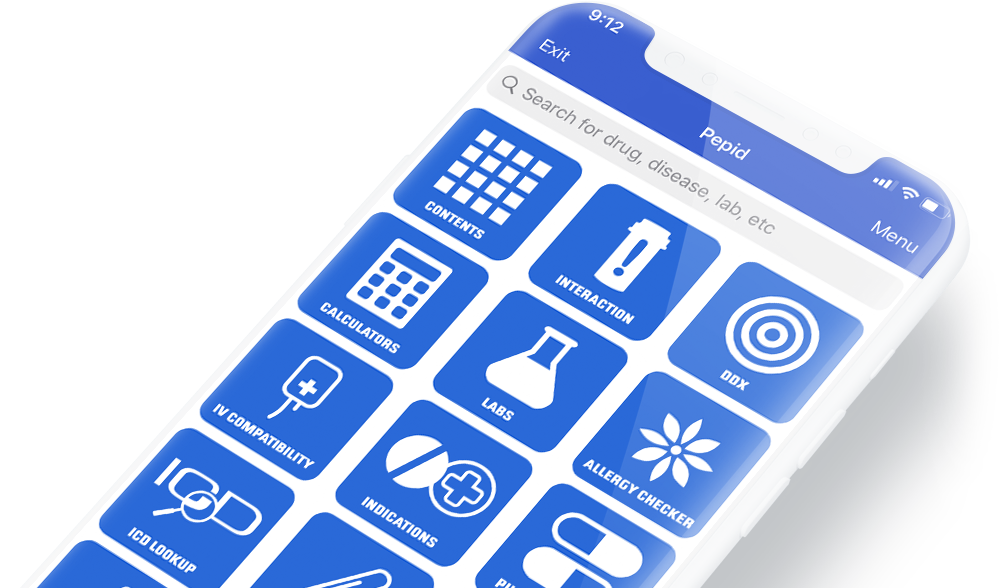 In-depth and Integrated for Holistic Healthcare.
All of pepid's industry-leading clinical and drug databases, synthesized for universal use and daily application.
PEPID's most comprehensive offering is specially built to provide dynamic clinical decision support to a variety of primary care providers, including physicians and physician assistants, medical residents, and nurse practitioners. PCP's in-depth content covers all life stages and facets of care and features essentials, guidelines, hi-res multimedia, the latest evidence-based Clinical Inquiries and PURLs from the Family Physicians Inquiries Network (FPIN) and more.
PEPID maintains an agile editorial cycle to quickly respond and revise when new, relevant information is published and made available. The cycle includes a continuous comprehensive review and revision of all clinical and drug data by our own team of in-house physicians, nurses and pharmacists. All sections are written and reviewed by specialists of that topic.
Product Tools
All PEPID Suites Include:

Mobile Devices
Phone & Tablet
With Offline Access*

Online
Web Browser
Requires Internet Connection
Primary Care Plus Ambulatory Care,  1-Year
Online (Connect)
$25
/month – billed every year
Online (Connect)

Primary Care Plus Ambulatory Care,  2-Year
Online (Connect)
$22.91
 /month – billed every 2 years
Online (Connect)

Primary Care Plus Ambulatory Care,  3-Year
Online (Connect)
$21.52
 /month – billed every 3 years
Online (Connect)

Primary Care Plus Ambulatory Care,  2-Year
Online (Connect)
$24.83
/month –

Billed in 4 Installment payments of $149
Online (Connect)

Primary Care Plus Ambulatory Care,  3-Year
Online (Connect)
$25
/month –

Billed in 4 installment payments of $225
Online (Connect)