Professional Nursing Suite
The only professional nursing resource you can carry from entry-level to advanced practice – minus the bulk.
Where curing and caring go hand-in-hand.
PEPID's Professional Nursing Suite delivers our complete library of evidence-based nursing content to the point-of-care. Simplify safer medication administration with integrated drug interaction, drug-allergy, and IV compatibility checks, along with thousands of dosing and medical calculators.
PEPID has all the TOOLS to help you help others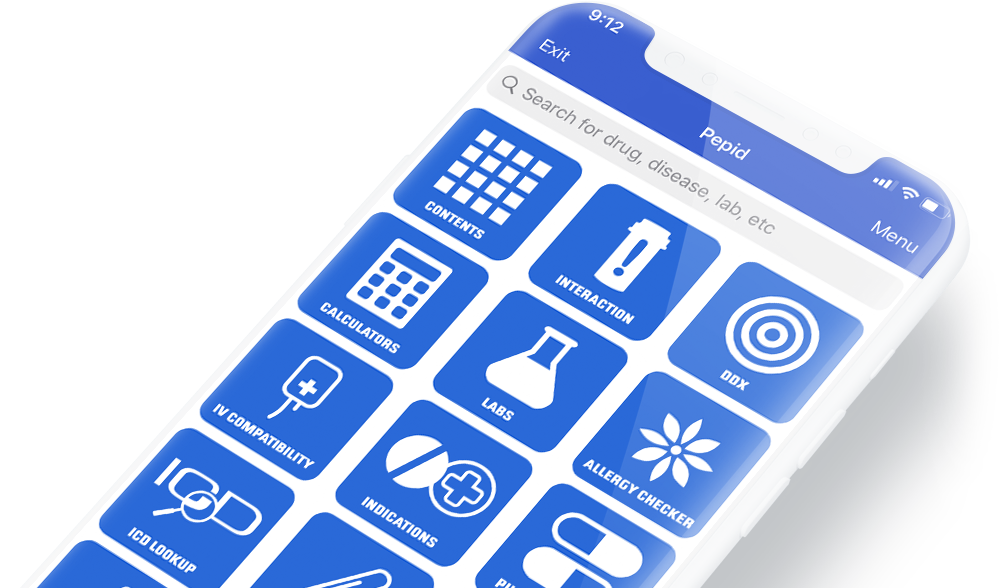 Industry Leading Clinical Decision Support
Written for nurses by nurses.
AN ENTIRE LIBRARY OF NURSING TEXTBOOKS, DRUG POCKET GUIDES & OVERSIZED CHARTS AVAILABLE AT YOUR FINGERTIPS AND WHEREVER YOUR CARE IS NEEDED.
A comprehensive clinical and drug reference built especially for professional nurses across all career levels and areas. PEPID's Professional Nursing Suite is NANDA-I approved and highlights evidence-based considerations and interventions from our authoritative nursing content partners.
PEPID maintains an agile editorial cycle to quickly respond and revise when new, relevant information is published and made available. The cycle includes a continuous comprehensive review and revision of all clinical and drug data by our own team of in-house physicians, nurses and pharmacists. All sections are written and reviewed by specialists of that topic.
Product Tools
All PEPID Suites Include:

Mobile Devices
Phone & Tablet
With Offline Access*

Online
Web Browser
Requires Internet Connection
Professional Nursing Suite,  1-Year
Online (Connect)
$17.91
/month – billed every year
Online (Connect)

Professional Nursing Suite,  2-Year
Online (Connect)
$15.83
 /month – billed every 2 years
Online (Connect)

Professional Nursing Suite,  3-Year
Online (Connect)
$14.44
 /month – billed every 3 years
Online (Connect)

Professional Nursing Suite,  2-Year
Online (Connect)
$17.83
/month –

Billed in 4 Installment payments of $107
Online (Connect)

Professional Nursing Suite,  3-Year
Online (Connect)
$17.88
/month –

Billed in 4 installment payments of $161
Online (Connect)