The simple solution for your patients' complex medication starts with an unrivaled database and a no-frills selection of PEPID's proprietary tools and calculators.
The practical drug expert's choice.
Your go-to drug handbook – digitized and simplified. PEPID's Portable Drug Companion delivers essential drug and dosing information with a comprehensive drug interactions checker. This proven resource offers an exhaustive drug listing, including herbals, nutritional supplements and antidotes, as well as content on overdoses, drug-induced toxidromes and drug-related labs.
PEPID has all the TOOLS to help you help others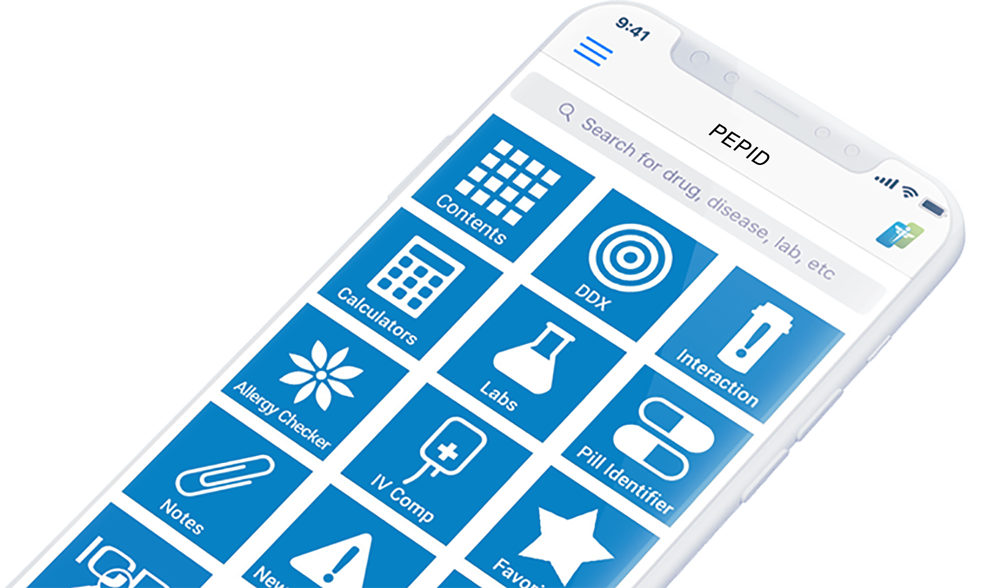 The No. 1 Drug Database
A ROBUST SYNTHESIS OF DRUG, TOXICOLOGY, AND MEDICATION MANAGEMENT ESSENTIALS ACROSS U.S., CANADIAN, AND INTERNATIONAL PHARMACEUTICAL REGISTRIES.
The smart solution to your growing list of drug database subscriptions and apps, built in partnership with the American Society of Health Systems Pharmacists. PEPID's Portable Drug Companion covers the basics of safe medication administration and more, with integrated drug monitoring lab values, toxicologic tests, and thousands of calculators.
PEPID maintains an agile editorial cycle to quickly respond and revise when new, relevant information is published and made available. The cycle includes a continuous comprehensive review and revision of all clinical and drug data by our own team of in-house physicians, nurses and pharmacists,. All sections are written and reviewed by specialists of that topic.
Product Tools
All PEPID Suites Include:

Mobile Devices
Phone & Tablet
With Offline Access*

Online
Web Browser
Requires Internet Connection
Portable Drug Companion,  1-Year
Online (Connect)
$12.08
/month – billed every year
Online (Connect)

Portable Drug Companion,  2-Year
Online (Connect)
$9.99
 /month – billed every 2 years
Online (Connect)

Portable Drug Companion,  3-Year
Online (Connect)
$9.30
 /month – billed every 3 years
Online (Connect)

Portable Drug Companion,  2-Year
Online (Connect)
$11‬
/month –

Billed in 4 Installment payments of $66
Online (Connect)

Portable Drug Companion,  3-Year
Online (Connect)
$10.44
/month –

Billed in 4 installment payments of $94
Online (Connect)